4 Reasons Why You Would Buy Lockers from Statewide Office Furniture
Statewide Office Furniture has been around for 50 years and to this day we still manufacture steel office storage products. But this begs the question – why have we been around for so long? What makes a Statewide Office Furniture locker worth buying? That's what we're going to delve into today. These are the top 4 reasons to buy a steel locker from Statewide Office Furniture.
It all starts with…
Bluescope ZINCANNEAL® Steel
Just like you can't bake a good cake with poor ingredients, you can't make a quality locker with poor steel. We buy our steel exclusively from the "household name" company Bluescope. This gives us the best base ingredient to start our locker. According to steel.com.au/zincanneal,
"BlueScope's ZINCANNEAL® steel products are designed for both commercial forming and deep drawing applications, with a matte galvanised surface which enhances post painted appearance."
The improved painting qualities and the lack of surface rust prior to working the steel make for a great material in all our products, not just lockers. It also has noticeably stronger characteristics when compared to thicker steels that are used in imported products that we have compared. Millimetres of thickness in steel is not the ONLY measure of quality. A 0.5mm Bluescope ZINCANNEAL is significantly stronger than a lot of 0.7mm Chinese steel that we have compared our product against.
Steel is also completely recyclable and extremely durable. Especially when comparing it to melamine and other materials often used in cheaper office furniture.
Welds, Not Rivets
Being Australian made has numerous benefits. Surely you have heard of the benefits of supporting Australian workers by buying goods made here? What about the environmental benefits being that we follow Australian environmental standards simply by the fact that we live and breath in this country and adhere to all the required legislation? There is one, often brushed over fact that isn't always obvious. Have you ever wondered why flat-pack products exists? They aren't stronger than a solid product – move them around enough and they will become loose and wobbly. They aren't more convenient than a solid product. Have you even done Ikea?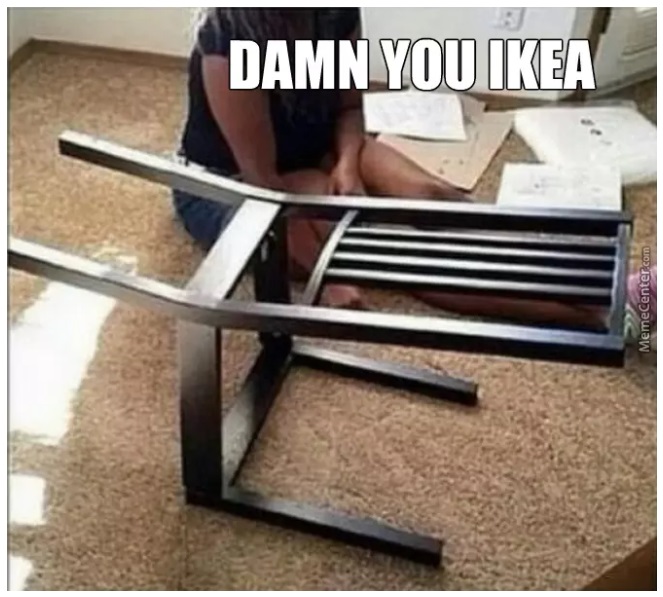 So what do flat-pack items have going for them? One thing. They're cheaper to ship in a 40 foot container across the Atlantic Ocean. Now, many importers will assemble office storage goods before they arrive at your door, taking care of the convenience issue. However you are still trading price for quality. If budget constraints are such that price is the most important factor, no problem, but we at Statewide have a lifetime warranty for a reason. You won't need to replace Statewide lockers in 5 years, or 10 years…
Options, Options, Options
Having an entire factory at your disposal, right here in Sydney, has a multitude of benefits for customers that are near unmatched in today's declining manufacturing sector. Rather than focusing on a few high-volume products and picking only the most popular colours in order to fill a shipping container, we are capable of having a diverse and proactive product lineup. Here's a list of some of the options available in our locker range, which give customers the freedom to invest in products that truly meet their needs.
An upgrade with an OH&S appeal that prevent users from being able to place items on top of the lockers.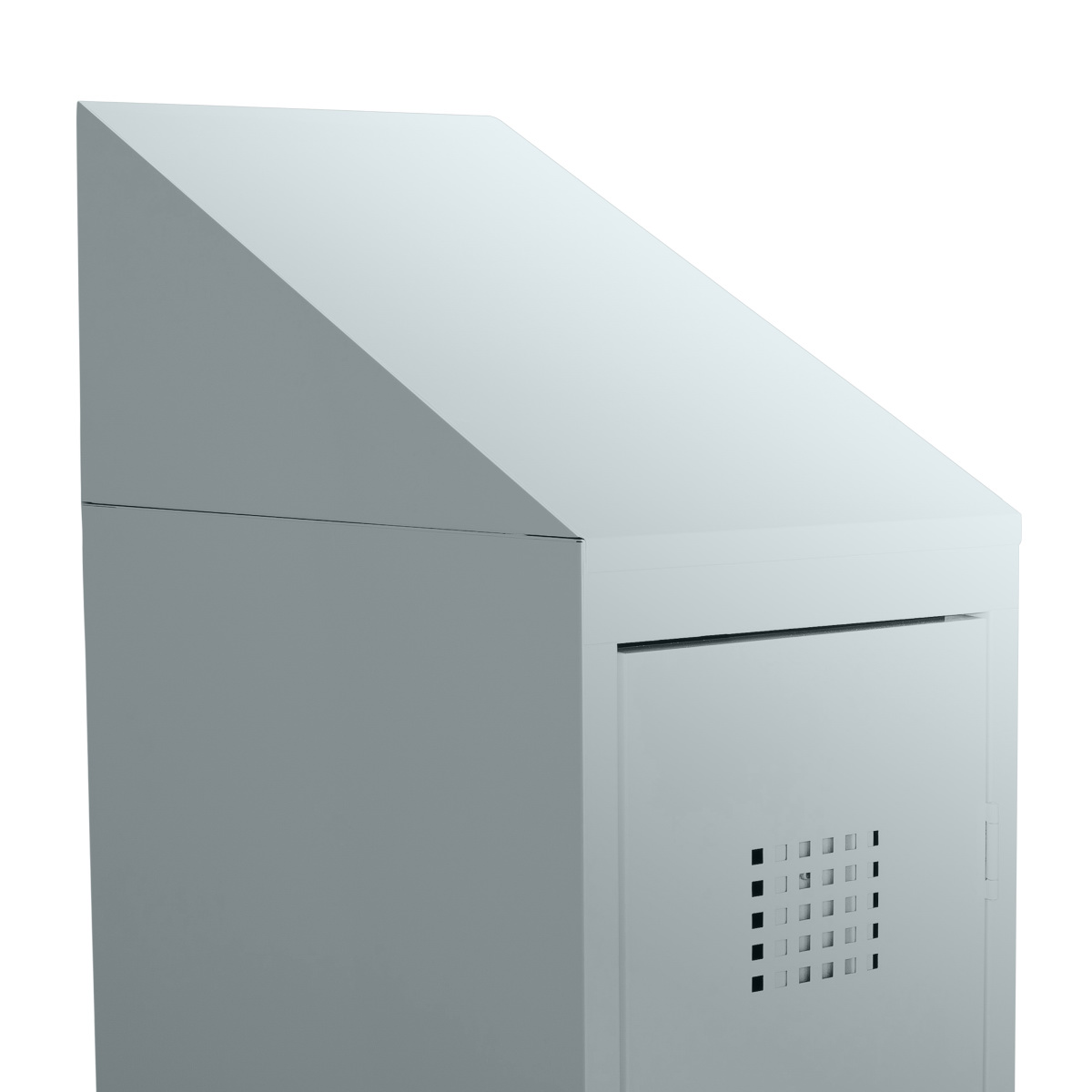 Banking in up to three lockers:
Has a few benefits. Banking the lockers is faster to deliver (you can carry three lockers at once rather than do three trips). A banked unit is less likely to fall over from overloading or pulling since it is attached to or or two other lockers, weighing it down. It can't be separated leading to a visible gap, meaning it is also a good aesthetic choice.
Dual colour or multi colour lockers:
When we are applying powder coat, each part of the locker is painted individually to ensure 100% coverage. A locker room doesn't have to be drab and grey, or all clinical and white.
Want the colours of your logo? Need a special finish that you know Dulux or Interpon do in powder coat? While custom colours are certainly more cost effective in larger orders, we certainly can quote on any powder coat that isn't in our normal range.
Different locking systems:
We know what you get on your average locker, either a key or a latch ready for a padlock. But what do you actually need? What will make life easier? There are so many locks available, providing you know what you want to achieve. Don't want any more key management? Try a combination lock. Need administrative access to all lockers for security purposes? Have a look at digital pincode locks or RFID smart card locking. Still want a key but need the flexibility to replace lock numbers when a staff member leaves? Ask about barrel exchange. Or maybe you have a company wide lock that you want us to fit for you. We've done it before and we can do it again.
Locker stands and locker room seating:
We recently improved our stands and seating range with the addition of environmentally friendly inclusions like Modwood, and the OH&S must-have "Adjusta-Foot". It's a smooth purchasing experience when you can order stands for your lockers and know ahead of time they are built to last and are designed to fit the lockers you are putting on them. You can read more about them here – Getting Serious About Seats and Stands [ARTICLE].
It's not enough to simply have a single door, two door and four door locker as you so often see in furniture stores. Customers increasingly have unique requirements, from ventilation to shelf additions to heights. Here are some of the different locker options we can accommodate.
– Standard height (1800mmH) and half height lockers (940mmH)
– Up to 12 door lockers
– Ability to add shelving or boot shelves
– Ability to remove doors in order to have exposed compartments
– Optional internal shatter resistant mirrors
– Ventilation that can be modified to specific shapes or needs
– The list goes on.
We can do more extensive changes to lockers as well such as customised internals to include adjustable shelves, or changing dimensions.
We also offer a comprehensive collection of different types of lockers that cater to niche requirements. Some of these include mailing slot lockers, ventilation lockers, gym lockers, school lockers, cleaner lockers, step lockers (also known as z-lockers) to name a few. Check out our lockers page on the website for a more complete list, although we are always looking into how we can improve our offering so be sure to ask us if you can't find what you want.
Fast Turnaround on Large Orders
There's no doubt that some of our competitors who are dealing with only a few options and in smaller quantities can sometimes offer a faster delivery service. This is a bonus in their favour which stems from the lack of options. Offering variety comes at the cost of speed in many cases. We've combated this by analysing sales on standard lines and ensuring we maintain a minimum stock level.
However, where we truly excel is on large orders of bespoke requirements. Need 150 lockers produced in 4 weeks in a specific colour and digital locking? We can work with that. Just got approval from your higher up to go ahead with that fitout oh and by the way, you have two weeks to to have it all installed (we know they do this to you, we hear it all the time)? Let us know. We can't make magic happen but having the factory under office means we can get you a fast answer on what we can do. It also means you won't be waiting three months for a new container to arrive in Australia.
 Summary
All of these factors and more contribute to the reason we have been around for 50 years supplying Australian businesses and homes with Australian made steel office storage products. If you are in the market for steel lockers or other types of commercial storage, get in touch with us or one of our distributors today. Always happy to help.